NASA, Northrop Grumman Prepared to Launch Science, Supplies to the Space Station

We're sending science, technology, and supplies to the International Space Station—and you're invited to watch the launch!On Sunday, Nov. 6, at 5:50 a.m. EST, Northrop Grumman's Cygnus spacecraft will launch 8,265 pounds of cargo aboard an Antares rocket from NASA's Wallops Flight Facility on Wallops Island, Virginia. The spacecraft, dubbed the "S.S. Sally Ride" after the late NASA astronaut and educator, will spend about two days in orbit before arriving at the space station on Tuesday, Nov. 8. This is the 18th Northrop Grumman commercial resupply services mission as part of NASA's Commercial Resupply Program.The Cygnus spacecraft carries scientific investigations on 3D printing of knee cartilage, plant mutations, and mudflow structure—along with a demonstration of camera technology and small satellites from Japan, Uganda, and Zimbabwe.Live coverage and countdown commentary will begin at 5:30 a.m. EST on Sunday, and will air on NASA Television and the agency's website, as well as YouTube, Twitter, and NASA's App.
If you want to watch the launch online and connect with fellow space fans, sign up for NASA's free virtual guest program! You'll receive curated launch resources, timely mission updates, and a virtual passport stamp following a successful launch.P.S. Do you live on the East Coast of the United States? If the skies are clear, you might get a glimpse of the spacecraft heading into orbit in the minutes after liftoff. Check out our launch viewing guide for details!
| | |
| --- | --- |
| Artemis Launch Date – Our next Artemis I launch attempt—the first flight test of our Orion spacecraft and Space Launch System rocket—is fast approaching. Reserve a spot in our virtual guest program and get free resources before the launch, currently scheduled for Monday, Nov. 14, at 12:07 AM EST.Join Us Online | Earn Your Place in Space – Are you a high school or college student interested in launching a career with NASA? We're seeking a diverse group of candidates for our Spring internship programs. If you're interested, submit your application before the Nov. 7 deadline!Apply Today |
| | |
| --- | --- |
| JPSS-2/LOFTID Launch – After an initial delay for a battery replacement, the National Oceanic and Atmospheric Administration's (NOAA) Joint Polar Satellite System-2 (JPSS-2) satellite and NASA's Low-Earth Orbit Flight Test of an Inflatable Decelerator (LOFTID) tech demonstration are now scheduled to lift off Thursday, Nov. 10 at 4:25 a.m. EST.Watch on NASA Live | Saying 'Farewell' to Insight – NASA's Mars InSight lander is expected to fall silent soon, as windblown dust continues to accumulate on the spacecraft's solar panels and reduces Insight's power supply. But as the mission draws to a close, scientists say the data InSight has gathered will continue to yield discoveries for decades.Learn What InSight Found |
| | |
| --- | --- |
| Ask a NASA Scientist – The planet's climate is changing, and even a little change in temperature can have big effects. In this video, NASA Chief Scientist Dr. Kate Calvin explains what NASA is doing right now that can help us better understand and prepare for climate change.Watch the Video | Get Your Boarding Pass – Over 3 million people added their names to a flash drive that will fly around the Moon aboard our Artemis I mission. If you missed your chance, don't worry! You can now download a blank Artemis I boarding pass and fill it out however you'd like.Get Your Boarding Pass |
Image Spotlight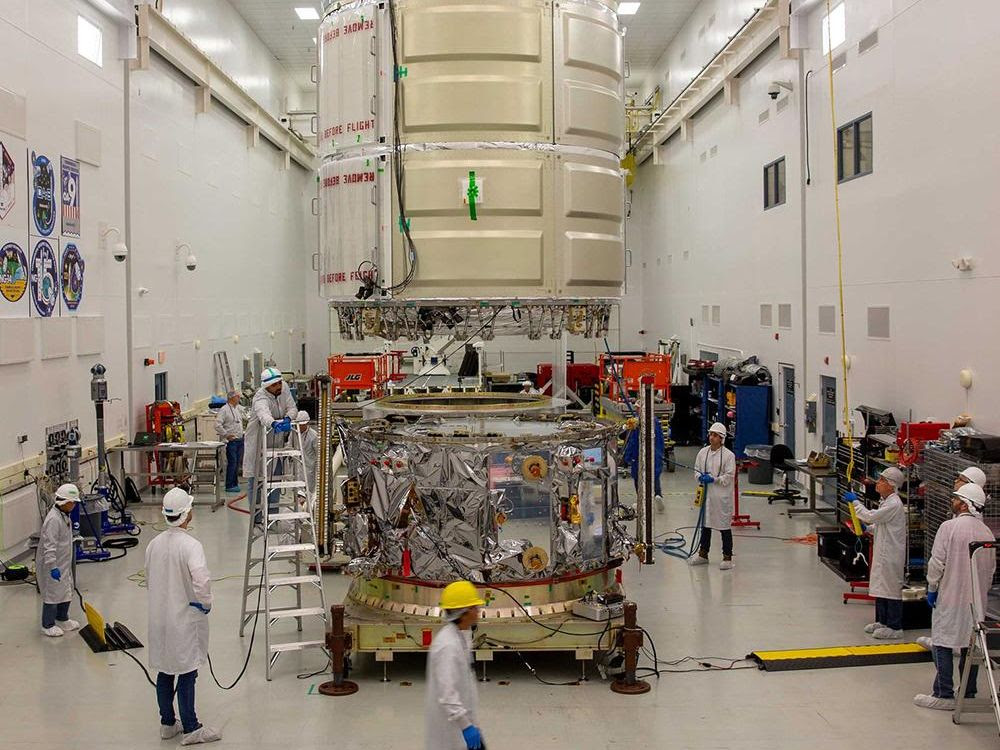 The pressurized cargo module section of Northrop Grumman's Cygnus spacecraft is lifted above its service module to begin mating on Monday, Sept. 26, 2022, at NASA's Wallops Flight Facility in Virginia.Image credit: NASA/Patrick Black