NASA Invites Public to Share Excitement of DART Launch
Can we change the motion of an asteroid? Our Double Asteroid Redirection Test (DART) mission is set to be the first to try! DART is scheduled to launch no earlier than 1:21 a.m. EST Wednesday, Nov. 24 (10:21 p.m. PST Tuesday, Nov. 23) on a SpaceX Falcon 9 rocket from Vandenberg Space Force Base in California.
The DART mission is a test of technology to determine whether sending a large, high-speed spacecraft to deliberately collide with an asteroid in space could change its motion. DART's target asteroid does not pose a threat to Earth, either before or after DART's impact.
How to Watch – The countdown commentary and launch broadcast will begin at 12:30 a.m. EST Wednesday, Nov. 24 (9:30 p.m. PST Tuesday, Nov. 23), airing on NASA Television and NASA.gov as well as YouTube, Twitter, Facebook, Twitch, Dailymotion, and NASA's app.
Be Our Guest – Register to attend the launch virtually or RSVP to our Facebook event. Our virtual guest program for this launch includes curated launch resources, a behind-the-scenes look at the mission, and a virtual guest passport stamp post-launch.
NASA Science Live – On Tuesday, Nov. 23 at 4 p.m. EST (1 p.m. EST), experts will discuss the DART mission and the agency's efforts in planetary defense. Members of the public are encouraged to participate by submitting questions in the comment section of the streams, or by posting them on social media with the hashtag #AskNASA. This event will stream live on NASA's Facebook, Twitter and YouTube channels.
Planetary Defenders Campaign – We want YOU to become a Planetary Defender! Take our planetary defense quiz to earn your planetary defender certificate, which you can download or print, as well as a digital badge to share on social media using the hashtag #PlanetaryDefender.
NASA's Next Laser Communications Mission
We're taking a step toward the next era of space communications with the launch of the Laser Communications Relay Demonstration, or LCRD, on Sunday, Dec. 5.  LCRD is set to launch as part of the United States Space Force Space Systems Command's Space Test Program 3 (STP-3) mission. STP-3 will launch on a United Launch Alliance Atlas V rocket from Cape Canaveral Space Force Station in Florida. Launch coverage begins at 3:30 a.m. EST, with liftoff scheduled for 4:04 – 6:04 a.m. EST.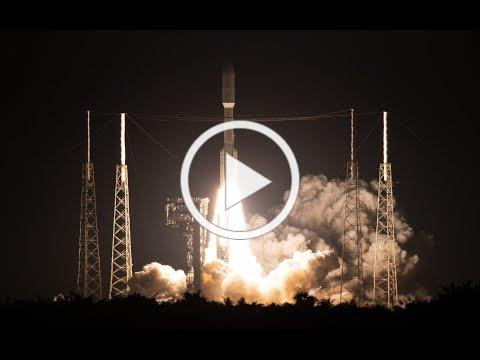 Laser communications offer data rates higher than traditional radio frequency systems, allowing more data per transmission. Once in orbit, LCRD will demonstrate the benefits of using infrared lasers to communicate information from space, including reduced size, weight, and power requirements for a communications system on a spacecraft.   You're invited to register to virtually attend the launch and receive mission updates and activities via email. Our virtual guest program includes curated launch resources, notifications about related opportunities, and a virtual guest passport stamp. 
X-Ray Eyes on the Universe – We're gearing up to launch a new set of X-ray eyes on the cosmos. Our Imaging X-ray Polarimetry Explorer (IXPE) will explore the spin of black holes, the leftovers of exploded stars, and more. Register to attend the Dec. 9 launch virtually and join our Virtual NASA Social on Facebook. 
National Space Council – Vice President Kamala Harris chaired her first National Space Council meeting on Dec. 1 at the U.S. Institute of Peace in Washington. During the meeting, Harris highlighted peaceful exploration, addressing the climate crisis, and the importance of building a stronger STEM workforce. 
Spacewalk Complete! – On Dec. 2, NASA astronauts Thomas Marshburn and Kayla Barron ventured outside the International Space Station and completed a 6.5-hour spacewalk. The duo replaced a faulty antenna and did some get-ahead tasks for future spacewalks. 
Elements of Webb – The James Webb Space Telescope towers three stories tall, has a tennis court-sized sunshield, and is twice the size of the Hubble Space Telescope. Yet Webb is half Hubble's weight. Why? Our new video series explores the reasons behind the answer. 
Seeking New Flight Directors – We're searching for new candidates for one of the best jobs on Earth: the position of flight director in mission control at Johnson Space Center in Houston. Think you have what it takes? Applications are open until Dec. 16. 
Working Together – This week, we signed agreements with three U.S. companies – Blue Origin, Nanoracks LLC, and Northrop Grumman Systems Corporation – to develop designs of commercial space stations to meet our needs and ensure a seamless transition of activity from the International Space Station. 
This Hubble Space Telescope image is of NGC 6891, a bright, asymmetrical planetary nebula in the constellation Delphinus. Hubble studied this cosmic object as part of efforts to gauge the distances to nebulae, and to learn more about how their structures formed and evolved.  Image Credit: NASA, ESA, A. Hajian (University of Waterloo), H. Bond (Pennsylvania State University), and B. Balick (University of Washington); Processing: Gladys Kober (NASA/Catholic University of America) 
NASA's Imaging X-ray Polarimetry Explorer, also known as IXPE, lifted off Thursday, Dec. 9, at 1 a.m. EST on a SpaceX Falcon 9 rocket from NASA's Kennedy Space Center in Florida.
After a successful launch, the rocket performed as expected, with spacecraft separation taking place 33 minutes into flight. Approximately one minute later, the spacecraft unfurled its solar arrays. IXPE entered its orbit around Earth's equator at an altitude of approximately 372 miles (600 kilometers), and mission operators received the first spacecraft telemetry data about 40 minutes after launch.
Beam Us Up! – The Laser Communications Relay Demonstration mission launched successfully on Tues., Dec. 7. This revolutionary technology will be our first end-to-end laser relay system, sending and receiving data over invisible infrared lasers from its orbit about 22,000 miles (35,000 km) from Earth.  
Webb on the Web – Social media users are invited to take part in our global virtual social for the launch of the James Webb Space Telescope, the most powerful space telescope ever made. Attendees will receive early access to Webb AR filters, behind the scenes videos, a NASA Social badge, and more. 
Resupplying the Space Station – Our 24th SpaceX cargo resupply services mission is targeted to launch on Dec. 21. Watch live as the Dragon spacecraft brings food, supplies, and scientific investigations to the space station, including a handheld bioprinter that could one day be used to print tissue directly onto wounds so they heal faster.
Watch a Meteor Shower – Mid-December is the best time to watch the Geminids, an annual meteor shower named because it appears to radiate from a point in the constellation Gemini. Tune in to a livestream of the shower's peak via a meteor camera at NASA's Marshall Space Flight Center on the evening of Dec. 13-14. 
Hubble at Full Strength – NASA's Hubble Space Telescope is now operating with all four active instruments, resuming full science operations for the first time since anomalies were detected nearly two months ago. The observatory has been in operation for over 31 years, collecting ground-breaking science observations that have changed our fundamental understanding of the universe. 
Seeking Students With Perseverance – Teachers, educators, and community leaders: do you know a student who has demonstrated perseverance during the school year? NASA's "You've Got Perseverance!" award will honor middle school students who kept moving forward when the going got tough. Now accepting applications.