Take Part in the James Webb Space Telescope #UnfoldTheUniverse Art Challenge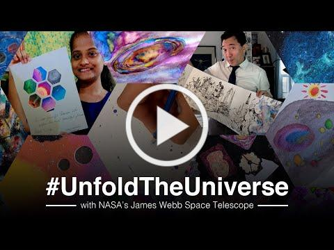 Our biggest and most powerful space telescope ever is launching soon! The James Webb Space Telescope, or Webb, will travel a million miles away to reveal the universe as never seen before.
What do you think we'll discover when we #UnfoldTheUniverse? Show us what you believe the Webb telescope will reveal by creating art. You can draw, paint, sing, write, dance — the universe is the limit.
Share a picture or video of you and your creation with the hashtag #UnfoldTheUniverse for a chance to be featured on our website, social media channels, and the Webb telescope's historic launch broadcast. The deadline for submissions is Dec. 18, 2021. Get important information about entering the challenge here.
Stacking Complete – This week, teams successfully stacked our mega-Moon rocket – the Space Launch System – and Orion spacecraft that will launch the next generation of deep space operations, including Artemis missions on and around the Moon.
Up for a Challenge? – We're seeking young engineers to help design a new robot concept for an excavation mission on the Moon. The Lunabotics Junior Contest is open to K-12 students in U.S. public and private schools, as well as home-schoolers.
Deep Space Food Challenge – This week, we awarded cash prizes to 18 teams for their ideas to feed future astronauts. Stay tuned on Nov. 9 for a NASA TV show about the winners with celebrity chef Martha Stewart and retired NASA astronaut Scott Kelly.
Measuring Water Use – Building on more than two decades of Earth science research, the newly launched OpenET is a web-based platform that puts water data in the hands of farmers, water managers, and conservation groups. 
From Mars to Earth – With the first rock samples packed, our Perseverance rover initiated the Mars Sample Return mission. Returning the samples to Earth is among the most ambitious endeavors in spaceflight history, involving multiple spacecraft, several launches and dozens of government agencies.
It's a Launch Treat! – Register to be a virtual guest for the launch of our SpaceX Crew-3 mission, the next flight of a U.S. commercial spacecraft carrying astronauts to the International Space Station. If the schedule holds, there will be no tricks —and all treats —for a Halloween morning launch on Oct. 31.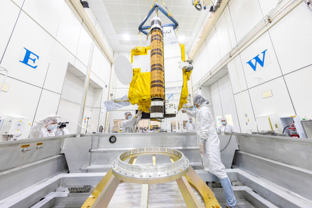 Just days after leaving the Johns Hopkins Applied Physics Laboratory in Laurel, Maryland, our Double Asteroid Redirection Test (DART) spacecraft arrived in California — its final stop here on Earth. DART is set to launch Nov. 24 from Vandenberg Space Force Base on a planetary defense-driven test of technologies for preventing an impact of Earth by a hazardous asteroid.