Next-Generation Explorers – We're inviting learners of all ages to register for a special event ahead of the upcoming launch of the James Webb Space Telescope. Join us for Webb STEAM Day: A STEM + Arts Interactive Learning Experience––a virtual event that will take place Sept. 30.
You're invited to take part in virtual activities and events ahead of the launch of the Landsat 9 satellite, a joint NASA/U.S. Geological Survey mission that will continue the legacy of monitoring Earth's land and coastal regions. Liftoff is targeted for Sept. 27 from Vandenberg Space Force Base in California.

Be Our Guest– Members of the public can register to attend the launch virtually. Our guest program includes curated launch resources, a behind-the-scenes look at the mission, and a virtual guest passport stamp following a successful launch.

Camp Landsat – Camp activity fun for everyone with organized sections of Landsat information and activities – like Cities & Suburbs, Forests Forever, Beaches & Reefs, and more. Explore videos, interactives, and downloadable games you can do at home.

Interactive Mission Site – To learn more about the project and its near 50-year history, check out the Landsat interactive website. Dive into decades of observation, explore the spacecraft, and meet some of the people who have used Landsat data.
The Future of NASA – This week, NASA Administrator Bill Nelson announced the agency is creating two new mission directorates that will set the stage for the next 20 years. This reorganization positions us for success as we venture farther out into the cosmos than ever before, all while supporting the continued commercialization of space and research on the International Space Station.
Lunar Landing Site Selected – We've selected a landing site for the Artemis rover, called VIPER. The water-mapping rover will land west of Nobile crater near the Moon's South Pole. This robotic scout will identify and study resources for future human exploration.
Meet Lucy – Aluminum mirrors polished with diamond dust. Cameras that can spot 75-yard-wide craters from 600 miles away. These science tools and more will fly aboard the Lucy spacecraft to the Trojan asteroids, set to launch Oct. 16.
Challenge Accepted – This week, 10 university teams kicked off a new challenge: to extract ice beneath a simulated lunar or Martian surface. As we look forward to Artemis, ideas like these will be essential in creating technology to access resources for humans to survive on other worlds.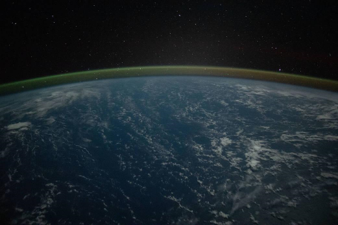 The atmospheric glow blankets the Earth's horizon beneath the stars, as shown in a photo taken while the International Space Station orbited 261 miles above the Pacific Ocean southeast of Japan.
Please visit my Patreon page if you're so inclined or make a donation. Or you can click the coffee cup in the bottom right corner of the screen and Buy Me A Coffee. Thank you!