In a historic first, our Perseverance Mars rover successfully collected its initial pair of rock samples, and scientists are already gaining new insights into the region.

After collecting its first sample, named "Montdenier," Sept. 6, the team collected a second, "Montagnac," from the same rock Sept. 8, completing the collection of the first sample of Martian rock. Analysis of the rocks may offer clues about the ancient climate and habitability of Mars.

These samples have high value for future analysis back on Earth. Subsequent missions, in cooperation with ESA (European Space Agency), would send spacecraft to Mars to collect these sealed samples from the surface and return them to Earth for closer study.
Explore the Perseverance Mission!
The Future of Aviation – This week, NASA Administrator Bill Nelson joined a White House event highlighting sustainable aviation. Our innovations in green technologies for aircraft, airspace operations, and aircraft propulsion will help the nation meet its sustainability goals.
Spacewalk Preview – Astronauts Akihiko Hoshide of the Japan Aerospace Exploration Agency (JAXA) and Thomas Pesquet of ESA (European Space Agency) will venture outside the International Space Station for a spacewalk Sunday, Sept. 12. Live coverage begins at 7 a.m. EDT.
Be Our Virtual Guest – Set to launch from Vandenberg Air Force Base no earlier than Sept. 23, Landsat 9 will continue 50 years of eyes on our changing planet. Register to be our virtual guest and get behind-the-scenes access from the launch site, a stamp for your guest passport, and more.
The World Needs Your Ideas – Our International Space Apps Challenge is partnering with nine space agencies to celebrate its 10th annual (all-virtual) hackathon Oct. 2-3. Join participants from around the world to build solutions to challenges we face on Earth and in space.
Launch Update – Together with the European and Canadian space agencies, we're targeting Dec. 18 for launch of our next great space science observatory – the James Webb Space Telescope. Next: Webb will be packed for its journey to the launch site in Kourou, French Guiana.
Meet the Artemis I Team – Artemis I may not have a crew of astronauts on board, but experienced teams behind the mission will help ensure the success of our Space Launch System rocket and Orion spacecraft's first trip around the Moon later this year.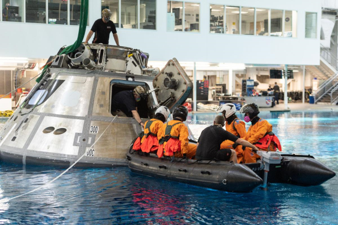 In this image, the SpaceX Crew-3 team and support personnel participate in water survival training at the Neutral Buoyancy Laboratory at our Johnson Space Center in Houston. The mission is slated to launch in late 2021.